Comic Potential

by Alan Ayckbourn
Thursday
16th to Saturdy 18th NOVEMBER 2023
Curtain 7:30pm
Erin Arts Centre, Port Erin
Photos
Programme Notes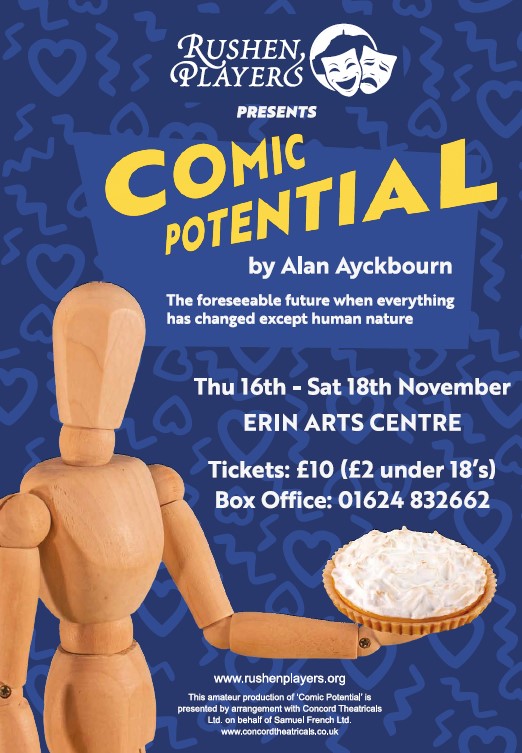 A hilarious satire of television and a touching romantic comedy.
It begins in a television studio where a hospital soap opera is being taped.

One actor starts speaking gibberish; he is an

actoid

,

a robot, and his programming is off-kilter.


Adam

,

the young nephew of the producer and an aspiring writer who worships the
director (once a great movie director and now a broken-down has-been), is on the set.



Adam

starts chatting with

Jacie Tripplethree

, the

actoid

(serial number JC333) playing the nurse
and finds, to his surprise, that not only can she carry on a conversation but, due to what
she calls a fault in her programming, she has a creative imagination.



Adam

wants to build a new television series around her, but the studio will not hear of it.
He also finds he is falling in love with the charming robot!
Will

Adam

get the green light on his series?
Will love prevail?
| | |
| --- | --- |
| Backstage Crew | |
| Stage Manager | Matthew Warren |
| Stage Crew | Adrienne Sanderson, Sarah Lockyer, Jon Quillen, Ailsa Harop, James Holmes |
| Programme | Sarah Lockyer, Ron Beswick |
| Props | Adrienne Sanderson |
| Lights & Sound | Ron Beswick, Mike Lean |
| Front of House | Jack Verity |
| Poster | Dave Sherriff |
| Raffle | Jane & Norman McGregor-Edwards |