Rushen Players

Twelfth Night

by William Shakespeare
Wednesday 10th to Saturdy 13th MAY 2023
Curtain 7:30pm
Erin Arts Centre, Port Erin
Photos
Programme Notes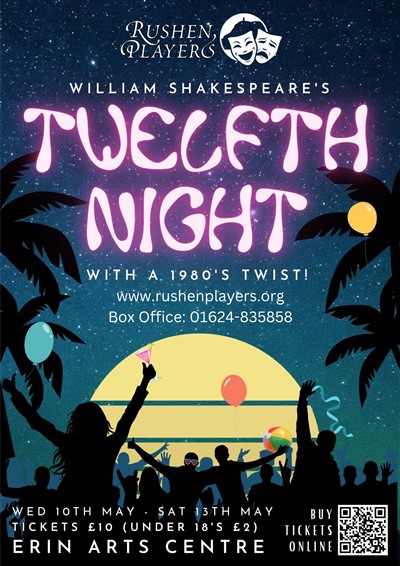 Orphaned twins, shipwrecks, love triangles and more ......
Viola, separated from her twin Sebastian in a shipwreck, finds herself in Illyria,
where she dresses as a boy (Cesario) to work for the Duke Orsino, whom she falls in love with.
Orsino is in love with the Countess Olivia and sends Viola to court her for him,
but Olivia falls in love with Viola instead.
Meanwhile, members of Olivia's household plot against her pompous
and puritanical steward, Malvolio.

Olivia's uncle Sir Toby Belch, her servant, Maria, and Sir Toby's friend, Sir Andrew Aguecheek
(who also hopes to marry Olivia) use a letter to trick Malvolio
into believing Olivia loves him, and eventually have him locked up as a madman.

When Sebastian arrives in Illyria, Olivia mistakes him for Viola and marries him.
Antonio, who saved him, is arrested as an enemy of the state.

In the final scene, identities are revealed, Malvolio is released, and Antonio is pardoned.
Orsino realises his affection for Viola and promises to marry her.
.
All will become clear as the plot progresses
Backstage Crew



Stage Crew & Props

James Holmes

Prompt
Brian Matthews

Props - Stage Trees

Joanna Fox

Lights & Sound

Ron Beswick, Mike Lean, Ian Galloway


Poster & Programme

Louisa Thomas, Ron Beswick, Sarah Lockyer

Raffle

Norman McGregor-Edwards, Caroline Jones,
Kath Smith, Pauline Johnson