Rushen Players

Two One Act Plays

Friday 24th MARCH 2023
Curtain 7:30pm
Erin Arts Centre, Port Erin
Photos
Programme Notes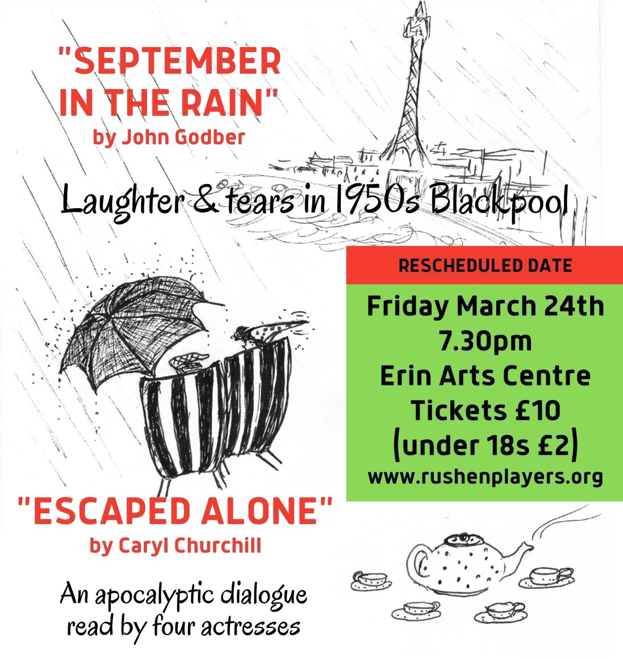 We are pleased to present two interesting One Act Plays
for your enjoyment
Escaped Alone by Caryl Churchill
Three old friends and a neighbour, backyard tea with environmental disaster, exploring themes of
politics, crisis, communication and female endurance. A summer of afternoons in the back yard.
Tea and catastrophe!
The pleasant conversation is frequently interrupted, by the neighbour, Mrs. Jarrett, who addresses the audience
with long monologues about an apocalyptic world. The play speaks to our fears about the future of the planet,
as well as our personal anxieties, while also offering some salvation in the strength of our community,
as friends, neighbours or open-minded theatre goers.
Humour and pathos.
This play will be presented, on stage, as 'a rehearsed reading'
This amateur production of "Escaped Alone" is presented by arrangement with Concord
Theatricals Ltd. on behalf of Samuel French Ltd. www.concordtheatricals.co.uk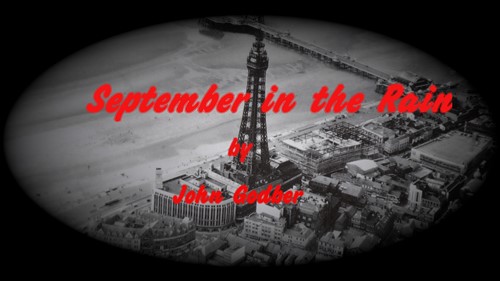 September in the Rain by John Godber
Newly-wed Yorkshire couple Liz and Jack have their first trip to 1950 Blackpool.
They holiday in a world of deckchairs and donkeys.
As the Wurlitzer organ plays they sway together on the floor of the Tower Ballroom.
For thirty years, come rain or shine, they never miss their annual week on Blackpool sands.
Moving backwards and forwards through time, 30 years married life unfolds
through laughter and tears, boarding houses and fish and chips.
This amateur production of "September in the Rain" is presented by arrangement with
Concord Theatricals Ltd. on behalf of Samuel French Ltd. www.concordtheatricals.co.uk
| | |
| --- | --- |
| Backstage Crew | |
| Costumes, Props | Adrienne Sanderson, Susie Beswick |
| Prompt | Brian Matthews |
| Stage Manager | Matthew Warren |
| Lights & Sound | Ron Beswick, Catrin Beswick |
| Poster & Programme | Adrienne Sanderson, Ron Beswick |
| Raffle | Kath Smith |